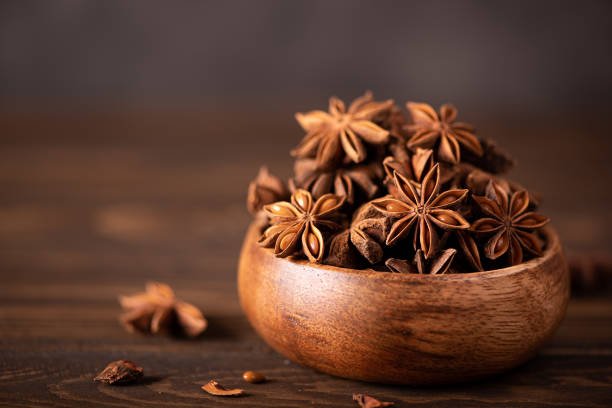 Star anise is a unique spice that is renowned for its distinctive flavour and a wide range of culinary and medicinal uses. It comes from the fruit of the Illicium verum tree, which is native to China and other parts of Asia. The spice is named after its star-shaped appearance, with typically eight pointed pods arranged in a star formation.
Here are some of the aspects that contribute to the magic of star anise:
Flavour and Aroma: Star anise has a robust and licoricey-like flavor, with a sweet, warm, and slightly spicy taste. It is used in both Savory and sweet dishes to add depth and complexity to the flavour profile.
Culinary Uses: Star anise is a common ingredient in many Asian cuisines, particularly in Chinese, Vietnamese, and Indian cooking. It's a key component in Chinese Five Spice Powder and is often used to flavor dishes like braised meats, soups, stir-fries, and marinades. It's also used in Western cuisines, primarily for desserts like poached pears, mulled wine, and certain cookies.
Medicinal Properties: Traditionally, star anise has been used in herbal medicine for its potential health benefits. It is believed to aid in digestion, alleviate symptoms of coughs and colds, and have antimicrobial properties. However, its use for medicinal purposes should be approached with caution, as excessive consumption can lead to adverse effects.
Natural Remedy: The compounds found in star anise, including anethole, contribute to its medicinal properties. It is often used to make teas, infusions, and herbal remedies to relieve various ailments.
Aromatherapy: Star anise is sometimes used in aromatherapy and essential oil production. The essential oil extracted from star anise is used in diffusers and massage oils for its soothing and calming properties.
Symbolic and Cultural Significance: In some cultures, the star anise is considered a symbol of good luck, protection, and warding off evil spirits. It is used in rituals and ceremonies to bring positive energy and blessings.
Anethole Content: Anethole, the compound responsible for star anise's flavor, is also found in anise seeds and fennel. It has a characteristic licorice taste and is often used to flavor candies, liqueurs, and other confectionery products.
Culinary Versatility: Star anise is an excellent spice for adding depth to both savory and sweet dishes. Its unique flavor pairs well with a variety of ingredients, making it a versatile addition to many recipes.
Remember that star anise is potent, so you should use it in moderation. It's typically used whole, and the pods are added to dishes during cooking, and then removed before serving. Whether you use it for its culinary flair or explore its potential health benefits, star anise truly possesses a magical quality in the world of spices.
We at Spiceyfy provide the Best Quality Star Anise at Best Price. Spiceyfy delivers the finest homemade farm-fresh spices directly from our organic farms. The brand sells only organic and natural items that have been handpicked and graded according to food safety requirements, dried, stored, and packaged according to your specifications.