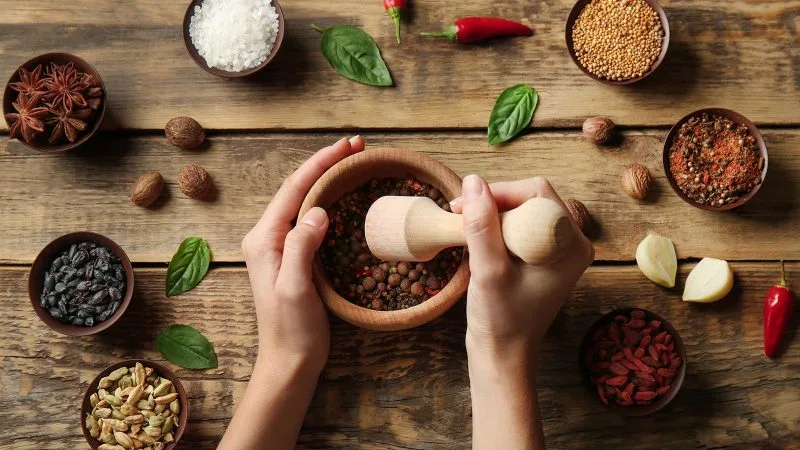 The Art of Grinding Spices
Spices are the soul of any flavourful cuisine. Their aroma and taste can elevate a dish from ordinary to extraordinary. While pre-ground spices are readily available and grinding your own spices at home can enhance the freshness and intensity of Flavors. In this guide, we will explore the art of grinding spices, from selecting the right tools to mastering various techniques for optimal results.
I. Selecting the Right Spices and Tools
Whole Spices: Whole spices retain their flavour and aroma for a longer time compared to pre-ground spices. Common examples of whole spices include cumin seeds, coriander seeds, cardamom pods, cinnamon sticks, and peppercorns. It is recommended to purchase high-quality whole spices from Spiceyfy for the best results.
Grinding Tools: There are several tools available for grinding spices, each with its unique characteristics: a. Mortar and Pestle: A traditional and versatile tool consisting of a bowl-shaped mortar and a pestle. It allows for precise control over the texture of the ground spices but requires manual effort and time. b. Spice Grinder or Coffee Grinder: Electric spice grinders or dedicated coffee grinders can efficiently grind spices in larger quantities. However, they may not provide the same level of control as a mortar and pestle.
II. Preparing the Spices for Grinding
Roasting: Roasting whole spices before grinding can enhance their flavour and aroma. Dry roast the spices in a pan over medium heat until fragrant, stirring frequently to prevent burning. Allow them to cool before grinding.
Cleaning: Before grinding, ensure that the spices are clean and free from any impurities. Remove any debris or stones and give them a quick rinse if necessary. Make sure to dry them thoroughly before grinding.
III. Grinding Techniques
Using a Mortar and Pestle: a. Add a small quantity of spices to the mortar to prevent overcrowding. b. Use the pestle to apply gentle pressure and grind the spices in a circular motion. Start with a light grinding motion and gradually increase the pressure for coarser textures. c. For a fine powder, continue grinding until the desired consistency is achieved. For a coarser grind, stop grinding earlier. d. Take breaks to allow the spices to settle in the mortar and prevent excessive heat buildup. e. Use a brush or spatula to transfer the ground spices to a container, leaving behind any larger pieces for further grinding.
Using a Spice Grinder or Coffee Grinder: a. Ensure that the grinder is clean and free from any residues that may affect the flavors. b. Add a small quantity of spices to the grinder, filling it only up to the recommended capacity. c. Pulse the grinder in short bursts rather than running it continuously to maintain control over the grind consistency. d. Shake the grinder gently during grinding to ensure an even grind. e. Check the texture periodically and adjust the grinding time accordingly. Be cautious not to over-grind and turn the spices into a paste. f. Transfer the ground spices to an airtight container, tapping the grinder or using a spatula to remove any residual powder.
IV. Storing and Preserving Ground Spices
Airtight Containers: Store ground spices in airtight containers made of glass or stainless steel to maintain their freshness and protect them from moisture and light. Avoid storing them in plastic containers as they can absorb odours and flavors.